Maryland-Style Crab Cakes
Handmade Crab Cakes with meaty chunks of all-natural blue crab Read More
This is a product image carousel.Hover over the image to get a magnified view of the product.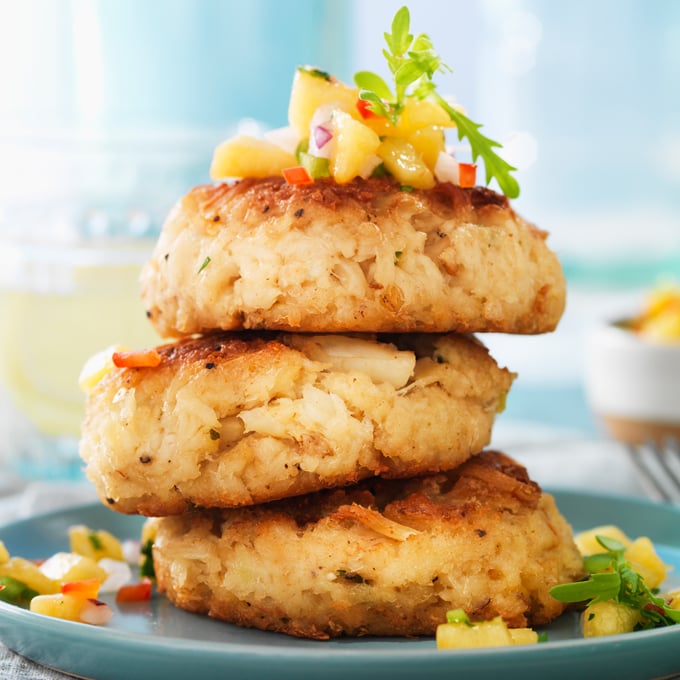 These crab cakes are handmade using a century-old Maryland recipe that calls for 65% sweet, meaty chunks - not shavings - of fresh, all-natural blue crab, plus a delicately flavored blend of breadcrumbs, mayonnaise, mustard and spices. They're irresistible baked, pan fried or deep-fried. Each order includes six packages of two crab cakes.
Ingredients: Crab Meat, Mayonnaise (Soybean Oil, Eggs, Vinegar, Salt, Mustard, Sugar, Water), Bread Crumbs (Unbleached Wheat Flour, Salt, Yeast), Eggs, Mustard (Distilled Vinegar, Water, No. 1 Grade Mustard Seed, Salt, Turmeric, Paprika, Spices, Natural Flavor, Garlic Powder), Seasoning (Celery Salt [Salt, Celery Seed], Spices [Including Mustard, Red Pepper, Black Pepper, Bay (Laurel) Leaves, Cloves, Allspice (Pimento), Ginger, Mace, Cardamom, Cinnamon], Paprika), Parsley.
Allergens: Crab, Soy, Eggs, And Wheat.
Crab Meat Source: Indonesia