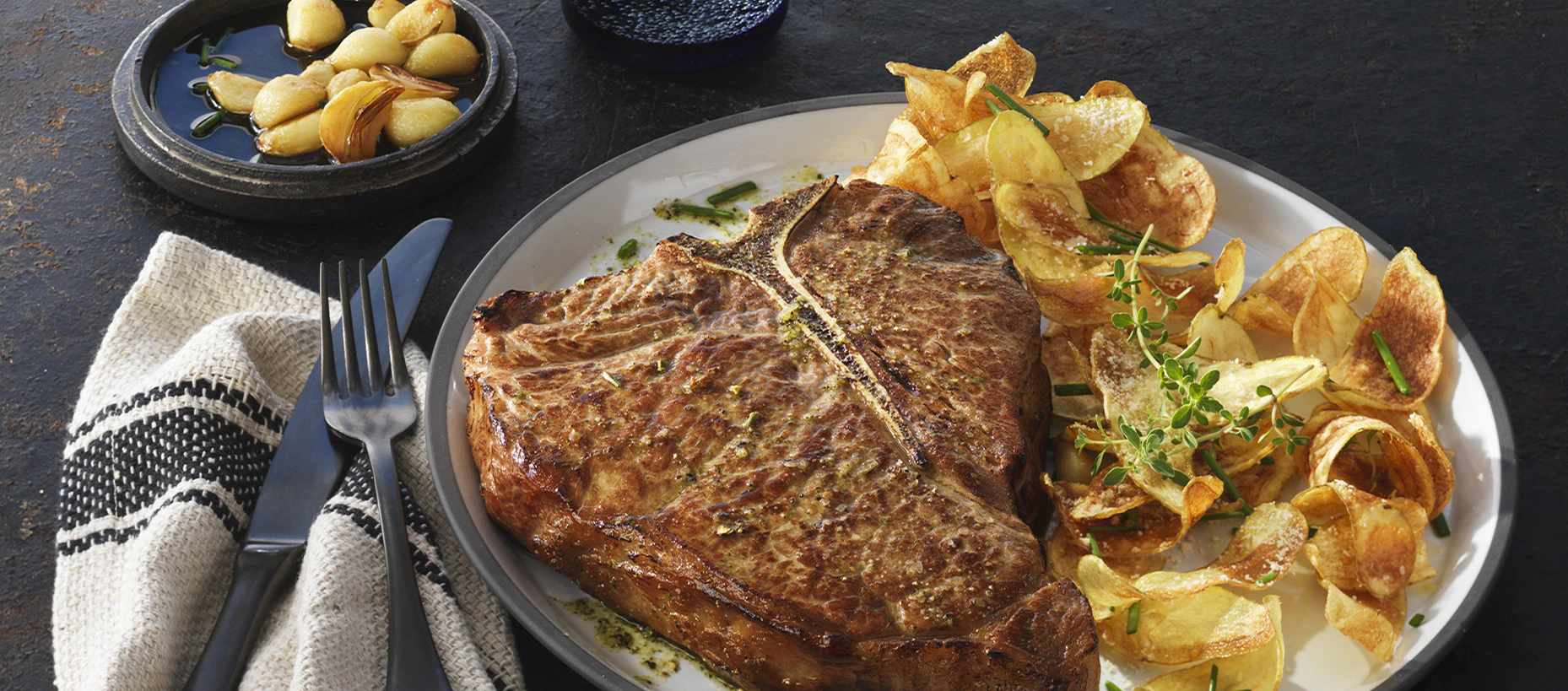 WHY CHOOSE ALLEN BROTHERS?
Since 1893 Allen Brothers has been serving the exacting standards of top chefs and restaurants nationally. We have earned our reputation based upon one guiding principle — never compromise. From the hand-selection of our meats to our meticulous aging methods and hand-cut custom portioning, every step of our processes is precise and performed to your exact specifications.
The highest quality products, industry-leading practices and unrivaled services
Focus on USDA Prime — the premier grade of beef
Artisanal hand-cut and perfectly aged
Steakhouse and chef acclaimed
Commitment to Excellence
---
FOCUS ON USDA PRIME — THE PREMIER GRADE OF BEEF
Allen Brothers' roots are in the USDA Prime beef market, the top 3% of all beef that earns the coveted USDA Prime rating. However, that is not good enough for Allen Brothers. We take the additional step of hand selecting the highest possible grade of the very best grain fed, pasture raised superior breeds. We also apply the same exacting standards to USDA Choice or higher to ensure that you always receive the highest quality and consistency from Allen Brothers.
---
STEAKHOUSE AND CHEF ACCLAIMED
The country's leading chefs and steakhouses have built their reputation upon the quality and consistency of Allen Brother meats. America's top chefs know that to create a superior meal, they need the highest quality ingredients and time-and-time again they choose Allen Brothers.
Visit these fine restaurants serving Allen Brothers.
---
---
COMMITMENT TO EXCELLENCE
We never compromise quality and we stand behind every cut of beef, veal, lamb, pork and poultry that we sell. Please be sure to call to speak to one of our Customer Service Representatives with any issue. And because we love hearing from you, tell us how we can make your Allen Brothers experience even better.
---
ABOUT ALLEN BROTHERS
Founded in 1893 in Chicago's famed Union Stockyards meat market, Allen Brothers still operates in the same neighborhood that shaped the American beef industry more than 120 years ago. For more than a century, the name Allen Brothers has been synonymous with the world's finest beef. The company has an unmatched reputation for quality and integrity and it has a steadfast commitment to customer service and innovation.
Allen Brothers uses the highest grade of USDA Prime, representing the top three percent of all graded American beef. This results in meats that are "the ultimate in tenderness, juiciness and flavor" according to the USDA.
Allen Brothers also offers the finest, humanely raised, Heritage breed veal and lamb as well as pork, seafood and ready-to-eat side dishes and prepared desserts that bring an element of convenience as well as quality to the table. Today, the steaks that the country's top restaurants have built a reputation upon are available for everyone to enjoy at home.
---
ALLEN BROTHERS SUPPORTS TRUTH-IN-MENU BECAUSE YOU HAVE THE RIGHT TO KNOW
Where the beef you buy is sourced
The grade you buy
If the beef you buy is aged or not
How the product is controlled at every step for the very highest quality
SOURCE
We source beef only from the U.S. (exclusive of Japanese Kobe and Australian Wagyu). And we only source the best breeds from the mid and middle-northern states where the land and climate are ideal for growing and feeding what we feel is the very best beef you can buy.
GRADE
Many consumers understand "Prime" and "Choice." But did you know that within each grade there are varying levels of marbling? We select only the top level within a grade. And we never use fancy names for our beef — we tell you exactly the grade you're buying. When you buy Allen Brothers USDA Prime, you can rest assured you're getting the very best USDA Prime possible.
AGING
We age our beef for full tenderness and flavor — aging makes a huge difference. Then our privately-trained expert butchers artisan-cut all our beef by hand with care. We never machine-cut, which can negatively affect quality.
HIGHEST QUALITY
At Allen Brothers, food safety and wholesomeness is always our top concern. We are committed to the best food safety processes and operate at the highest level of cleanliness and professionalism. Our processing facility is a top USDA site and is BRC certified — scoring a AA over the past 3 years, the highest level of certification. We are authorized to ship our beef directly to you, across the U.S. Unlike some others, we never rely on another supplier to cut or ship out of our constant oversight. From beef selection, aging, and cutting, to your table, you can count on Allen Brothers quality.
A COMMITMENT TO EXCELLENCE SINCE 1893
From the fabled streets of Chicago's historic Union Stock Yard, Allen Brothers has risen to become synonymous with exceptional quality. Our past generations have perfected the art of hand-selecting and aging beef. Their legacy, history and teachings have enabled us to provide you with the most expertly crafted USDA Prime and other high quality meats available today.
As fifth-generation stewards of Allen Brothers, our team of culinarians is committed to preserving and enhancing the legacy of the Allen Brothers name. We have built our business on sourcing and providing the finest products in the world to the country's top chefs - these long standing relationships are a testament to our commitment to excellence.
Building upon the knowledge of our past leaders, we are proud to steward the Allen Brothers tradition today and beyond.
Christopher Pappas, Chairman
Allen Brothers
---
THE HIGHEST QUALITY PRODUCTS, INDUSTRY-LEADING PRACTICES AND UNRIVALED SERVICE
Allen Brothers is the premier purveyor of the finest prime meats and other quality foods. In addition to our award winning steaks, we also offer the best heritage breed lamb, veal and pork, as well as premium seafood and more. See for yourself why top chefs and restaurants have trusted us as their source for the finest, most consistent, best tasting and most tender USDA Prime beef available — our sole focus is to ensure that the world's finest beef and other foods are enjoyed by all.
---
ARTISANAL HAND-CUT AND PERFECTLY AGED
Our products are hand-cut by highly skilled butchers applying the same artisanal standards pioneered by the neighborhood butcher. The result is perfectly trimmed and consistently cut steaks and roasts beyond compare. Combined with our patented aging processes, where we either wet or dry age our beef prior to cutting, resulting in exceptional flavor and texture.
AGING
Aging is the technique that makes even the finest meat more tender and flavorful. Meat is placed in our custom-built refrigerated coolers where temperature, humidity and air circulation are carefully controlled for designated times. During this natural process, the beef's enzymes break down and tenderize the meat, giving it a unique flavor and ensuring utmost tenderness.
WET AGING
In wet aging, meat is placed in vacuum-sealed bags that prevent moisture from evaporating and aged under controlled conditions. Enzymes break down the meat's complex proteins from the inside out, producing meat that is more tender, sweet and juicy with a flavor unique to this process.
DRY AGING
Dry aging is how beef was aged until the mid-1980s. Our dry-aged beef is stored in our custom-designed dry-aging cooler where a complex process incorporates an intricate and delicate balance of time (42-45 days), temperature, air circulation and humidity. The beef ages openly, exposed to air inside the coolers, and ages from the outside in, forming a hard crust around the edible tissue. Once aging is complete, this firm outer crust is carefully removed, leaving meat that is significantly more tender and with the distinctive 'beefy' delicious flavor imparted by dry aging.
HIGHEST STANDARDS AND SERVICE
Our commitment to food safety is unparalleled in the industry and we consistently exceed USDA requirements and set the bar for how other purveyors should operate. These same exacting standards are applied to our personal and knowledgeable customer-service.
---
CUSTOMER TESTIMONIALS
"All of your products are amazing during the holiday season. The Prime Rib Roast is a family favorite. Steak burgers are also always a hit."
"Your Steaks and Roasts are the very best. Orders have always arrived on time and in perfect condition. Excellent Customer Service and great place to do business with."
"I can trust Allen Brothers to provide truly amazing quality products and less commonly available specialty items like Kobe-Style Steaks."
"You have the BEST product! It has been a tradition in our home to have Prime Rib on Thanksgiving and Christmas for several years! Every bite is scrumptious!"
"Quality products - the Beef Tenderloins are awesome, the King Crab Legs are truly king sized, and the Crème Brûlée is to die for."
"I have given Allen Brothers products many times as gifts and the recipients are always amazed at the quality of the products. You ARE the gold standard!!!"
"We love your products! We're buying for all our friends this Christmas!"
"Quality of the meat is first class, always. I am never concerned about serving Allen Brothers food to my guests. I know it will meet my expectations."
"I would recommend Allen Brothers to EVERYONE!!!"
"Products are always great, a joy to receive the order. Our guests love the steaks and Bison Burgers."